Details:
The Cinnamon Bun doggy donut is pure heaven scent! Made with a base layer of wholesome granola, it is then dipped in peanut butter and then dipped again in vanilla yogurt. After dipping it is piled high with mini cinnamon chips making this donut smell fantastic and pack loads of flavor! This is a top choice for our dogs!
FAQ
How big is the donut?
The donut weighs approximately 4 ounces. This can be a lot for smaller dogs so we recommend breaking the donut in halves or quarters for smaller portions if necessary.
Is this unhealthy for my dog?
Our donuts and treats are made with wholesome, good for dog ingredients. Donuts are meant for occasional treats and not for dietary concerns. Please contact your veterinary office for diet and nutritional information specific for your dog's health.
How should the donuts be stored?
All treats should be stored at room temperature unless otherwise stated. Donuts will come in a small box and can be stored in that until finished. The donuts do not require any extra special storage instructions.
Do these expire?
All donuts DO NOT have an expiration date but we guarantee fresh products with ample time to consume. If you are unsatisfied with your experience, we will happily replace or refund your purchase. Please note that donuts tend to be crunchy or sometimes difficult to break apart, this is normal and should not be cause for concern.
When will my order ship?
We are a small business and try our hardest to ship orders the same day. In the unlikely event that your order does not ship the same day, we will notify you why there is a delay. Typical transit times range from 2-5 days depending on location. Express shipping is also available. You will receive an email with tracking information as soon as your order has shipped.
How much is shipping?
We offer weight + size calculated rates for all shipments. Once your desired items have been added to your shopping cart, you can calculate shipping costs based on postal code.
Do you offer international shipping?
We offer weight + size calculated rates for shipments outside the US. Please note that customers outside the US are responsible for all applicable duties and taxes.
How do I make a return?
We offer a 100% satisfaction guarantee on all of our products. If you don't like what you purchased, simply fill out the "Contact Us" page, or email fatpuppystore@gmail.com and tell us why you would like a refund/replacement. Please include your order number and any other necessary information and we will process a refund to the original form of payment.
What if there is an issue with my order?
If you notice an issue with your order, email us at fatpuppystore@gmail.com or fill out the "Contact Us" page. We'll be happy to help resolve any issues as soon as we can. 
Customer Reviews
I recommend this product
Doggy Donut of Deliciousness
My little girl whose is an 8 year old lab, Lucy Goose, absolutely loves these donuts for a special evening dessert. I do believe the cinnamon bun flavor is tied as her favorite with the Birthday Cake donut. Every night is a fat puppy night in our house when its time for treatos.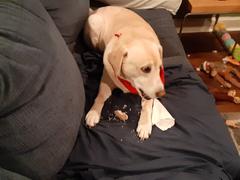 03/13/2021
Jennifer C.

Canada
Tail wagging good!
Our puppy loved her Cinnamon Bun Donut! We enjoyed watching her devour it!